Outdoor curtains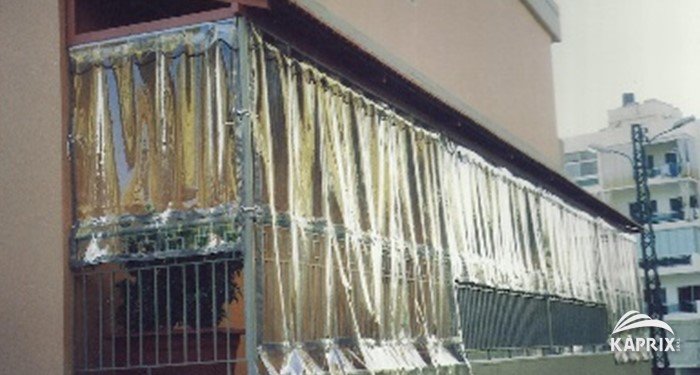 Transparent outdoor curtains protecting your balcony from the rain
Kaprix is the leading company in Lebanon for designing and manufacturing best quality and most attractive sunscreens, umbrellas, architectural tents and awnings. This article discusses the Kaprix's determination to ensure that their clients' balcony offers space for relaxation and fun during free time. The terrace or the balcony should serve a client's need to have private plays and be off limits at his/her home.
Kaprix designs and manufactures the awning individually i.e. they are all unique regardless of whether they are a glass canopy, a textile pergola, a classic sun curtain, among others. Its solutions for weather and sun protection for the garden and home have a guaranteed sun protection. They also offer protection from the wind, prying eyes and rain depending on the type of the awning.
Other than the normal acrylic fabrics, Kaprix has awning made of transparent fabrics for one to enjoy the view while in sunshade. Its vertical awning has screen fabrics that offer the advantage of significant transparency. These fabrics do not spoil the contours of the surrounding area despite the fact that they do not comprise the wind and privacy protection. It perforated screen fabrics are highly durable, and it have designed them such that they can remain rolled up in the aluminum cassette for protection when they are not in use.
These vertical transparent awnings are designed for weather protection that enables the client to relax outdoors without rain and draughts as well as having a party regardless of the state of the wind and weather. Kaprix uses top-quality PVC film that is transparent to ensure that the client's view of the surrounding is unobstructed. The resulting natural daylight lends a friendlier and brighter atmosphere that ensures increased comfort in the recreation area.
Kaprix offers a wind range of these vertical awnings that stand for solid, modern and strong wind resistance patio with a variety of application. They can be used for insect, wind and rain protection as well as glare and privacy protection when the sun is low depending on the combination of the fabric.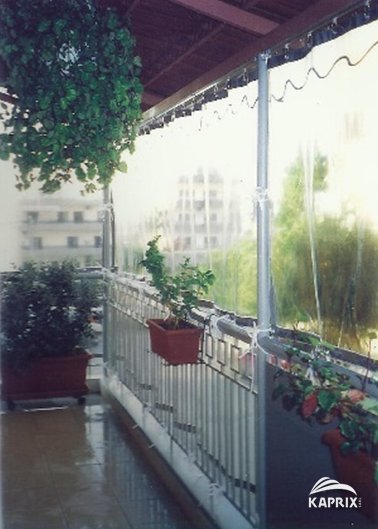 Interplay of colour, light and transparency
Kaprix equips these vertical awnings with UV-resistance fabric that offer several options for the clients to choose from, with these diverse options aiming to vary the appearance of the outside area. The company ensures an extensive, transparent standard that allows an optimum daylight into the room as well as guaranteeing no obstacle for one to view the outside.
Practicability and maintenance
Kaprix's vertical awning does not need extensive maintenance. The client can use water to clean small light soiling. The cover is effectively protected from vandalism and elements by the corrosion-resistance and elegant aluminum cassette when retracted. This protection mechanism has the tendency to prolong the product service life.
Installing these awning makes client's balcony convey a cosy ambient and look more attractive that make his/her guests remain seated, feel more at ease and happy to come back again.